Road transport is the main mode of domestic freight transport of businesses today. Transport by road by means of transport such as cars, trucks, container trucks, trailers, semi-trailers, etc. It can be said that road transport is one of DHD's strong services. LOGISTICS.
Road transport DHD LOGISTICS
DHD LOGISTICS owns a large number of vehicles and models, from small-sized vehicles to super-heavy vehicles, specialized vehicles, to ensure the ability of Serving freight every day in a variety of quantities.
DHD LOGISTICS has experienced staff in road transport organization, is well versed in transportation routes, We are confident to have enough capacity to meet All transportation needs from simple transport to complex, oversized, overloaded, oversized and overweight cargo. Abide by the time commitment, high quality and good price.
Currently, DHD LOGISTICS continues to invest in infrastructure, equipment for road transport, super-sized, super-heavy and special cargo by special means.
At the same time improve the management capacity, apply modern management software to meet the transport requirements in the logistics service chain.
With a team of professional service drivers. 100% of employees have a FC license, good health, responsibility for the job, ready to receive and complete difficult projects.
GPS navigation system is mounted on most vehicles to ensure the accuracy of the time and schedule of the trip, and safety of goods as required.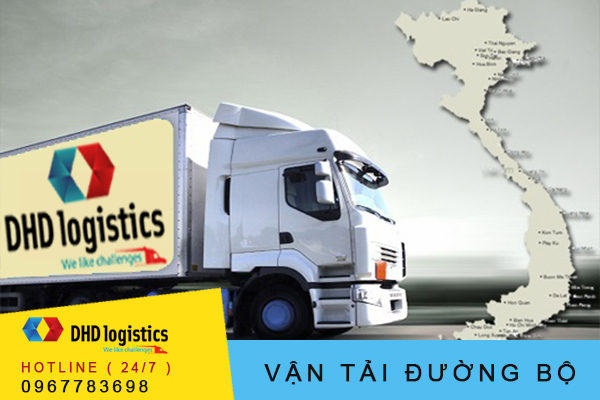 Advantages of road transport services at DHD LOGISTICS
Road transport is the most common form of transportation in Vietnam today. This type of transport has many outstanding advantages, including:
Convenience
Users can easily request road transport services whenever, wherever. As long as there are roads, trucks can drive.
Read more: Sea transport & Air transport
High mobility
The type of road transport is highly adaptable to natural conditions. Goods will be delivered on site, less affected by factors such as weather, climate, or terrain.
High effect
Road transport is highly economical, especially for short and medium distances, low value goods. As can be seen, road transport freight is the lowest compared to other types such as air, train.
Road transport services provided by DHD LOGISTICS
We have been undertaking road transport of the following items:
Trucking imports and exports.
Road transport of super-length and super-weight cargoes.
Bulk shipping, special cargo
Transporting goods in transit.
Road transport of temporary import for re-export and temporary export for re-import.
Road transport of construction materials, including: Cement, bricks, steel, plaster …
Road transport of industrial goods: textile, animal feed, machinery …
Road transport of agricultural products: Rice, corn, fresh vegetables, etc.
DHD Logistics – A Trusted Partner of Enterprises
DHD Logistics builds and manages the schedule of daily transit routes. To ensure small orders will be delivered quickly, saving time and on customers' requirements. Certainly, a shipment is shipped quickly, reliably and safely will bring many economic benefits as well as create the reputation of the business to partners.
DHD LOGISTICS has a solid legal foundation, and is ranked among the top reputable transport units in Vietnam. Customers who come to us will feel really assured not only of quality but also of attractive prices. In particular, the loyal customers, bulk cargo transporters, the price will be even better.
Website: https://dhdlogistics.com/en/
Hotline: 0967 783 698 – 0971 978 595
Email: chidp.dhdlogistics@gmail.com
Address: No. 28 Duy Tan, Dich Vong Hau, Cau Giay, Hanoi